Our team of volunteers knows the importance of sharing the joy and companionship of their pets with those in need. They visit various institutes and settings with our Therapy Dogs with the purpose of spreading joy and bringing about smiles on people's faces. These visits come under the category of Animal Assisted Activity, which are not goal oriented or documented. We visit places like orphanages, old age homes, pediatric Cancer Centers, nursery schools, libraries etc. We also conduct community programs to promote awareness about AAT or reach out to people in distress during natural/man made calamities.
Naunihal Girl's Shelter Home (Navi Mumbai)
Naunihal is a group home for girls who have been victims of human trafficking. This project started this year and is already very effective. The girls here range from 12-20 years facing behavioral, emotional and cognitive issues. The program we run here is the Comfort dog and the Therapy dog program, with the aim of providing these girls with comfort from the emotional trauma, as well as therapy for the various other issues. Our therapy dog Pepe, visits these girls and provide them with the solace they require. The girls find it easier to connect with Pepe as they see her as non-threatening and nonjudgmental. The program is facilitated by Animal Therapist Aakash Lonkar and Malvika Lobo.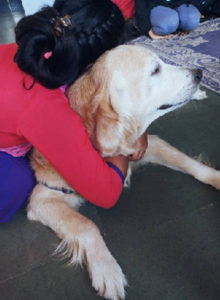 Rishi Valmiki School (Mumbai)
Reading programs were conducted at this school for children with learning disabilities. The focus of this program was on reducing hyperactivity and increasing confidence in these children. Our therapy dog Bolt and handler Kamna conducted these animal assisted educational activities.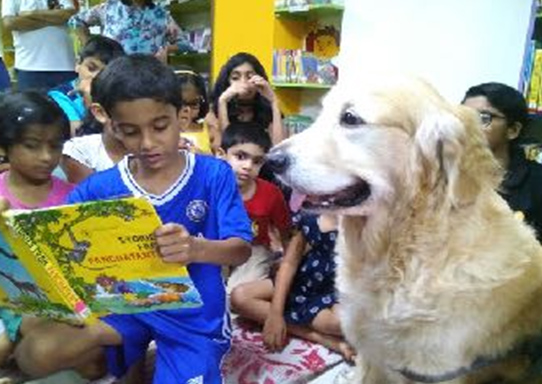 Mcubed Library (Mumbai)
An Animal Assisted Reading Program was conducted on World Kindness day, in association with Kindness Unlimited. The children who attended this workshop ranged from two and a half years to ten years. Our therapy dog Moshe who was the Reading Buddy for the program, along with handler Archana and therapist Malvika, conducted reading activities for the children. It not only allowed children who had trouble reading or were feeling shy to participate but also encouraged children who had not learnt how to read, to want to read and tell Moshe a story or a poem that they learnt.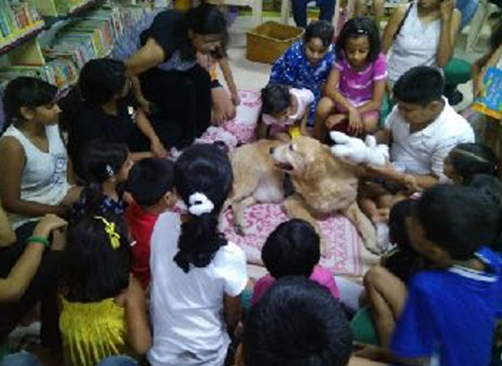 Prerana Anti-Human Trafficking (Mumbai)
This was de-stressing program conducted for the staff at Prerana. Prerana is an organization that works towards helping girls who have been trafficked. Our Therapy dog Pearl visited the organization. She engaged in de-stressing activities with the staff members, lifted their spirits with her enthusiast personality. She also gave them emotional support through paws and hugs to get them through their stressful day.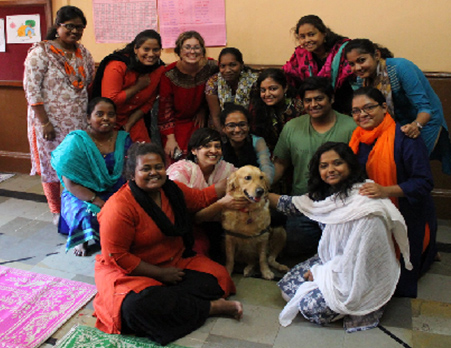 Tree house Nursery (Pune)
Our therapy dog Lucky and our Animal Angels team conducted activities at the nursery. We con-ducted an animal assisted activities program for the children, for which there was a positive outcome for not only the children but also the parents. Lucky helped bring about change in the mindset of these individuals as they became more willing to engage their children with positive and safe interaction.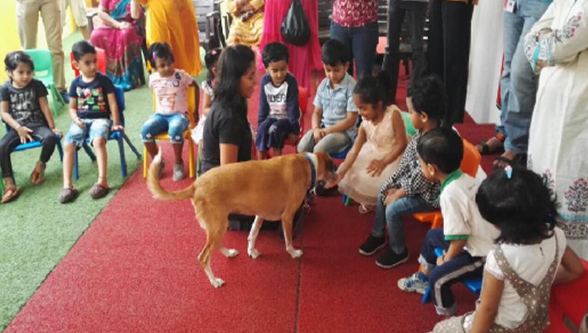 Aatman Academy (Thane)
Our Director Mr. Aakash Lonkar along with therapy dog Joey gave an orientation on what animal assisted therapy is and how it works as an alternative therapy for all kind of mental health issues. The participants were individuals working in the field of mental health.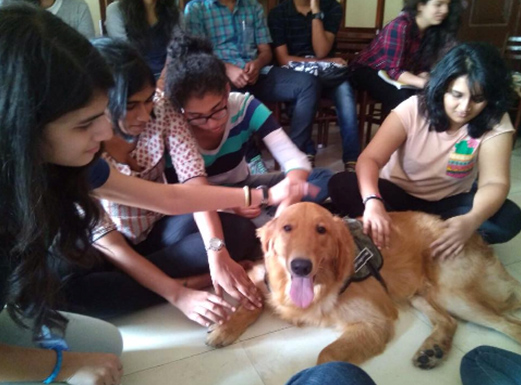 Summer workshop with pets
A 2-hour fun filled workshop was organised by Animal Angels in association with PetSitters at Sunshine Farms, Pune, in which, participants could play, pool, fetch and long walks on a cool summer evening. Our team of volunteers and our therapy dogs at the farm, Steffy, Chiquita and Shasha interacted with the children and their parents.
'Tails of Joy' at Pagdandi – Books Chai Cafe
'Tails of Joy'! An Animal Assisted Reading program was held for kids and adults. Participants could read out their favourite stories to our four-legged friends. Starting from 22nd August, this event was conducted every friday evening at Pagdandi – Books Chai Cafe, Baner, Pune. The event was exceptionally well received with all the participants responding ecstatically. "Tails of Joy" is our Animal Assisted Reading program to enhance literacy skills and to encourage the joys of reading through interaction with trained animals. This program intends to enrich the literacy skills of children in an effective and interesting manner.
Animals are ideal reading companions because unlike peers, animals are attentive listeners; they don't judge or criticize, so children are more comfortable and inclined to forget about their own fears. Children with low self esteem are often more willing to interact with an animal than other people. Further during such interactions, they forget their limitations. It is seen that children find reading to an animal less intimidating and transforms formerly dreaded reading events into a positive experience.
AAT conducted at Schizophrenia Awareness Association
The team of Animal Angels, along with Caregivers Link conducted a session at Schizophrenia Awareness Association(SAA). Therapy dog Scotty was the star of the even and Scotty, not just brought smiles to the caregivers and care receivers but also helped them build a positive memories that they could harness during tough times.
SAA tries to create public awareness and understanding about mental disorders in general and schizophrenia in particular, to inculcate confidence in and practice of self-help amongst families afflicted with mental illnesses, to provide facilities for vocational training with an aim of economic and social rehabilitation of people afflicted with mental disorders.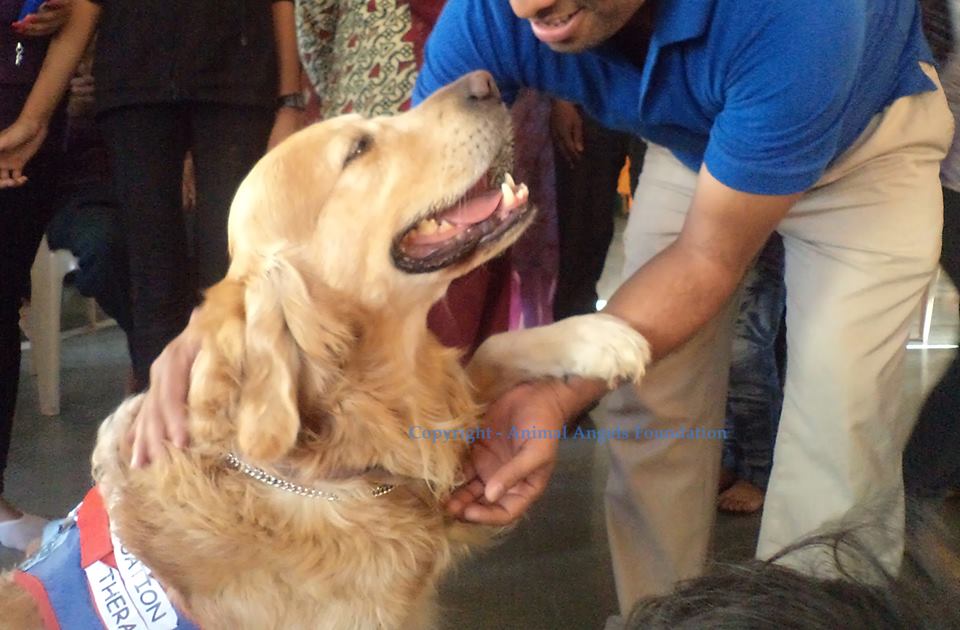 Therapy Dogs at 'Running Beyond Myself'
Second great year of participating in the 'Running Beyond Myself' Marathon, sponsored by Royal Canin and Union Bank of India.Our Therapy Dogs – Chiquita, Steffy, Oscar, Scotty and Hulk, along with the team, did the 3k walk and encouraged marathoners finishing their run, cheering them encouraging them and promoting the health benefits of walking with a pet. We were also the NGO partner for Pune Running.
Pune Running is a non-profit organization dedicated to health and fitness, we encourage, motivate and train people to take on running and in that, long distance – Marathon running. All this is done on a voluntary basis with no financial profit motive at all. All the programs are open to public.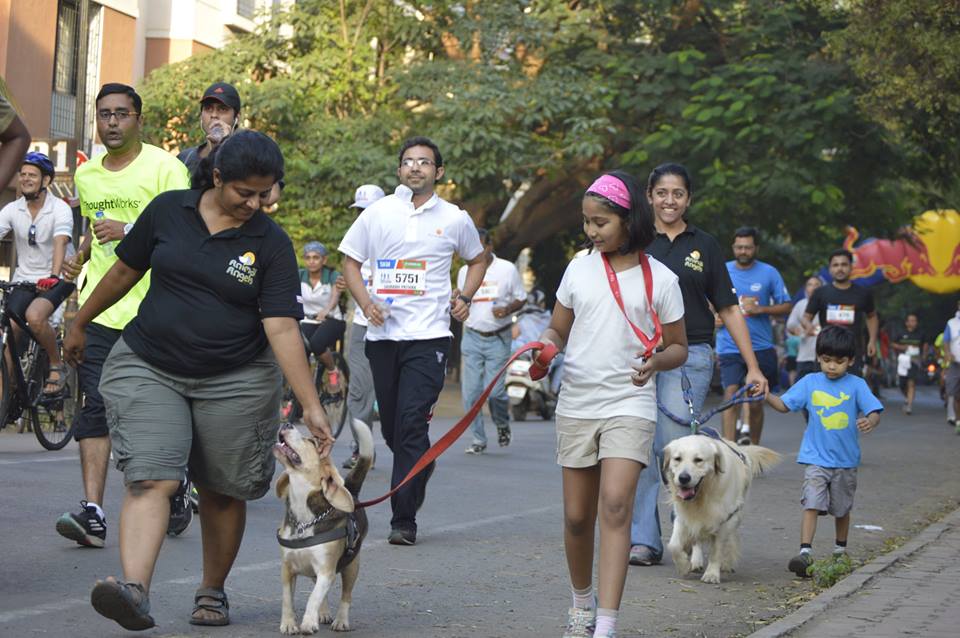 Therapy Dogs Paint the town Pink!
Our team of therapy dogs and volunteers ran the Pune Pinkathon in aid of breast cancer awareness on 16th of November, 2014. It feels great to be associated with such an important cause and it was overwhelming to see the positive response we got. We are grateful for the love and support we got from Milind Soman, Sonali Ogale and team Pinkathon for the opportunity to spread awareness about Animal Assisted Therapy in rehabilitative set-ups.
Pinkathon is a 10kms International Run only for women. The objective of the event is to encourage women's health and fitness. Pinkathon also aims to raise awareness about breast cancer, its causes and prevention. Breast cancer is the leading cause of cancer deaths amongst women worldwide, in spite of it being one of the curable cancers if detected early.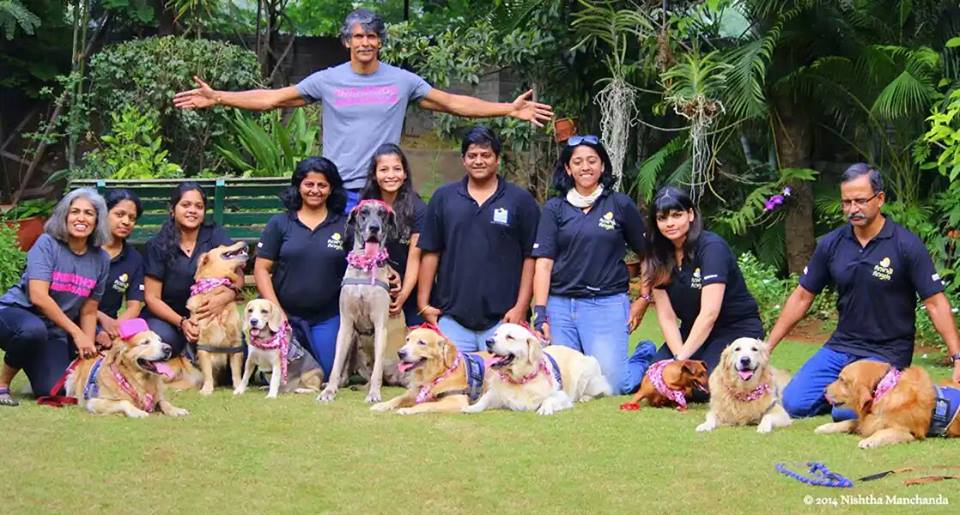 World Heart Day celebration – Jadu Ki Jhappi campaign
In the pursuit of canvassing about the amazing health benefits of Animal Assisted Therapy for hospitalized patients, we conducted another program that promoted the benefits of interacting with a therapy dog for your heart. On the occasion of World Heart Day, Animal Angels Foundation, along with Brandcare, conducted an event called as 'Jadu ki Jhappi' at Wockhardt Hospital, Mumbai. At the event, we encouraged heart patients to interact with our Therapy dog Pepe. People, though initially hesitant to believe in the benefit of interacting with a dog, were soon all over Pepe, as they realised, how soothing and stress relieving it was to interact with her.
Animal Assisted Education activities
Scribido Campus, an Indian education services company, specialize in English education for schools through custom newsletters, events & training and Animal Angels Foundation, conducted our Animal Assisted Education programs in various schools in and around Pune. The AAE programs give school children an unconventional platform to learn with the help of trained therapy animals. Under this program, the children learned about Human – Animal bond and about helpful animals. We also conducted our Animal Assisted Reading programs, where the children read out to the therapy dog.
AAA at Wunderbar Kids, Pune
Wunderbar kids is a nursery and daycare in Pune. Our team of Therapy dog Scotty, along with therapist Aditi Bodas and Minal Kavishwar to interact with the young kids at the center.
Animal Assisted Education event at Indus School, Pune
Animal Angels team Aditi Bodas and Therapy dog Scotty visited the Indus School at Bhosle Nagar, Pune to conduct an Animal Assisted Education program with them. The young minds at Indus school were thrilled to have a dog in their school. The kids got to read out stories to Therapy dog Scotty, play with him and understand more about how animals help people.
AAA at Dignity Foundation, Powai
Our senior most Therapy dog Goldie, who is 12 years old, visited the Dignity Foundation's group of senior citizens for an Animal Assisted Interaction session. When the seniors interacted with Goldie, they realised that they shared similar issues, but when they was the zeal and enthusiasm with which Goldie was trying to meet each and everyone, they also gathered the enthusiasm to get up and reach out to her despite their joint problems or slow pace. Goldie truly brightened their lives with her visit.
Animal Assisted Activities for children with (CP) Cerebral Palsy on World CP day
Oct 2010 – Children with Cerebral Palsy enjoyed the furry company of our therapy dogs Aekon and Shirley on the occasion of World Cerebral Palsy day which falls on the 2nd of Oct. The event was sponsored by Allergen pharmacetcals and the AAA program was conducted by our volunteer, Dr. Shweta Sohini. Dr. Sohoni, a physiotherapist says that AAT/AAA is a very when incorporated with physiotherapy can help achieve tremendous improvement in children with CP. The presence of the therapy dog motivates the patient to forget he is going through therapy and enjoy the session. It also makes them forget their pain and stretch their potential to respond to physiotherapy exercises. Dr. Sohini says this therapy and its benefits for patients undergoing physiotherapy and rehabilitation are still unexplored and that it needs to be explored more.
The Therapy dogs for the event were Aekon (chocolate Lab, male) and Shirley (fawn Lab, female). The children present at the event did many activities with the therapy dog like playing ball, taking him for a walk, feeding and petting him. All these activities my sound simple but being able to do them is a big achievement for a child with CP. Aekon and Shirley surely gave these children a reason to smile.
Animal Assisted Activities for Cancer patients on International Women's day
March 2008 – Cancer Patients Aid Association (CPAA), Pune celebrated Women's day by organizing Animal Assisted Activities for women Cancer patients across Pune. Animal Angels conducted a visiting program in association with CPAA on International Women's Day for women Cancer Patients from different hospitals across Pune, like Ruby Hall Clinic, Sasoon Hospital, Command Hospital etc. Therapy Dog Kiara was the star of the program who won over the hearts of the patients and gave them a reason to smile. All these patients had a wonderful time as Kiara helped them de-stress.
Patients suffering from cancer often experience a high degree of stress and depression. Hospitals often use dogs and cats to help patients after surgery or during chemotherapy. Patients may not always have family members or friends nearby to provide hourly companionship and support and may feel more comfortable talking with support animals about their fears when dealing with cancer. Dogs and cats, especially ones that are trained in the service field, are unconditionally supportive and loving to patients.
Christmas party of Thalesemia and Cancer Patients, Ruby Hall Cancer Center Pune
December 2007 – Animal Angels conducted a session for the pediatric patients suffering from thalesemia, heart disease and Cancer at Ruby Hall Cancer Center, where they had organized a Christmas party for the children. Therapy dog Kiara, a lovely Golden Retriever, was dressed up specially for the occasion as a Santa. Children were thrilled to see her and enjoyed a lot. These children who would otherwise stay gloomy due to the painful treatment had immense joy in their faces after interacting with Kiara.
Visit to Kudje farm with HIV positive children of Manavya Foundation
Dec 2007 – On the occasion of World Aids Day, Animal Angels Foundation wanted to spread the message of unconditional love – something that animals and nature teach us. An outdoor event was organized at a farm of one of the volunteer of Animal Angels, where HIV positive kids from Manavya were taken out for a picnic. These kids are once who have acquired HIV from their parents and who are orphaned or abandoned. Manavya is a residential center which takes care of these kids, their education and medical expense.
Our aim was to let the kids enjoy nature and animals as they are the ones who truly accept a person unconditionally. The main attraction for the event was Therapy dog Tyson ( a male Boxer), belonging to our volunteer, Dr. Shushma Date. Dr. Sushma Date is a pediatrician and believes that the companionship of a therapy dog can help these kids to vent out their emotions and also a channel to express their belongingness to someone.
Raahat Ka Ehsaas : Animal Assisted Activity for post trauma stress post 7/11 train blast
Animal Assisted Activity for Post Trauma stress : a program for Mumbai Railway Police
SOS Balgram Orphanage, Pune
Running Event, Pune
Lavasa Women's Drive