Animal Assisted Education (AAE) is a specialized application of Animal Assisted Activities (AAA) or Animal Assisted Therapy (AAT) directed at students and classroom interactions.  Under this we conduct two kinds of programs: Animal Assisted Reading and Introduction to Animals.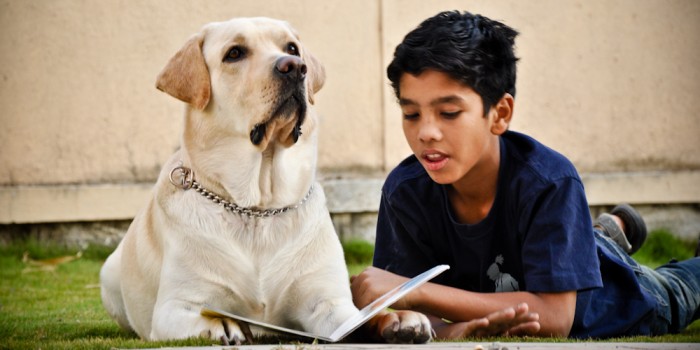 "Tails of Joy" is our Animal Assisted Reading program to enhance literacy skills and to encourage the joys of reading through interaction with trained animals. This program intends to enrich the literacy skills of children in an effective and interesting manner.
Animals are ideal reading companions because unlike peers, animals are attentive listeners; they don't judge or criticize, so children are more comfortable and inclined to forget about their own fears. Children with low self esteem are often more willing to interact with an animal than other people. Further during such interactions, they forget their limitations. It is seen that children find reading to an animal less intimidating and transforms formerly dreaded reading events into a positive experience.
At a typical reading session, our therapy dog is introduced as a 'Reading Buddy', a dog who loves to listen to stories. "Would you like to read out a story to your reading buddy?" we ask the child. The child who may find it boring or difficult to read out loud in front of a grown up, will read out enthusiastically to the dog. The dog does not laugh at them or frown on them for making mistakes and the child is guided by the special educator present for the session.
This program is ideal for young children as it develops interest in them towards reading. It is recommended for children with reading and learning differences as the animals provides a unique environment where the child overcomes him inhibitions and differences. This program is not only for children with reading and learning disabilities but also for normal children who lack interest in reading activates or find it difficult to read out loud in front of a group.
We conduct these sessions at Libraries, Bookstores, playgroups and schools.
Crossword Bookstore-Mumbai, Pune
Times NIE, Pune
British Library, Pune
Jungle Book children's Library, Pune
Akanksha Foundation, Pune
Hippocampus Children Library, Bangalore
Reading program – Shamrao Kalmadi Highschool, Pune
Blue Cross Society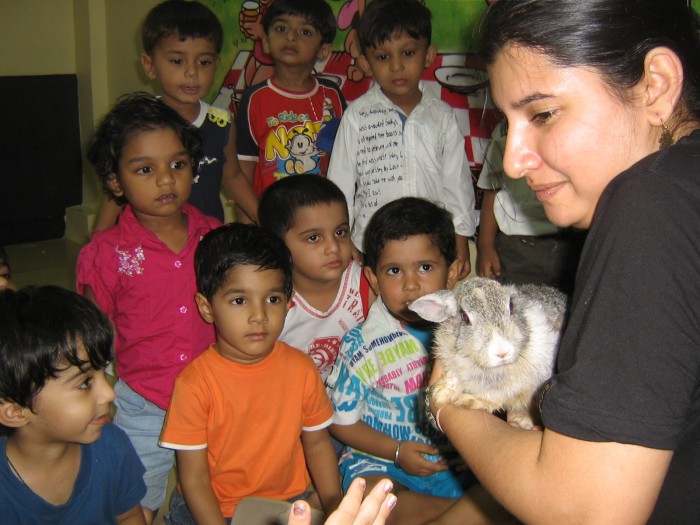 It is seen that children who grow up caring for animals, grow up to be compassionate and understanding human beings.
"IntroductiontoAnimals" is a program specially designed for normal school children where the children get an opportunity to interact with animals and also get to learn about them.
The education today's child gets is textbook oriented. Even subjects like 'environmental science' are taught from textbooks. It is very necessary that a child learns to be sensitive about the environment that he lives in and should also learn to respect and protect it. Unfortunately children do not get enough chance to explore their environment.
Through this program we educate the children about the domestic animals around them. We take various animals to the school and give them information about each animals, its grooming, feeding, handling etc. Every child get a firsthand experience in handling, touching the animal. The program also helps certain children overcome their fears and misconception about certain animals.
Euro Kids
Jungle book
Nursery Project
Sharda Balvadi Nursery School
Little Flower Nursery School
Jack n Jill Nursery school
A.K Joshi School
Vikhe Patil school, Pune